AASR Golf Outing
Sunday, July 19th at
Oak Ridge Golf Course
Brazil, Indiana
Registration 11am, lunch at Noon, Tee off 1pm
$35 cost covers lunch, cart & fees
This is open to anyone you would like
to introduce to our Valley
Master Mason or not!
Reply to this email for RSVP!
or contact Randy Porter
812-236-7665 or wslmailman14@hotmail.com
The Samuel Dillion Jackson Council Princes of Jerusalem line officers and their ladies recently had dinner together.
Illustrious Peers & Brethren All, 
We regret to inform you that
 Ill. Brother Michael S. Buckley, 33°
has laid down the working tools of life.
Michael Seymour Buckley
( March 11, 1946 - June 06, 2020 )
West Lebanon - Michael "Mike" Seymour Buckley, 74, West Lebanon and formerly of Attica, passed away in the emergency room of the Franciscan Health East Hospital, Lafayette, on Saturday, June 6, 2020 at 4:07 a.m.  Mike was born in Lafayette, Indiana on March 11, 1946. He was the son of the late Harold Matthew and Evelyn Voyle (Rhode) Buckley. Mike was raised in Attica, graduating from Attica High School in 1964. He has resided in West Lebanon since 1990.
Mike had served in the Indiana National Guard.
Mike worked at Harrison Steel Castings Company as Manager of the Printing Department. He worked at Harrison Steel for 50 years and 6 months.
Mike was a 50 year member and Past Master of the Fountain Lodge # 60 F.& A.M. He was a member of the Scottish Rite, Valley of Terre Haute; member of the West Lebanon Chapter # 23 Order of the Eastern Star.
He was a Scout Master serving both in the Cub Scouts and Boy Scouts in Attica.
He was a former member of the Attica Volunteer Fire Department. He enjoyed quail and pheasant hunting along with fishing. He was an avid woodworker. Mike was a member and Elder of the Trinity Presbyterian Church in West Lebanon. He along with his wife enjoyed traveling.
He was first married to Judith Carpenter. Mike later married Carol F. Clark on June 5, 1993 in Attica. He leaves behind his wife, Carol of 27 years, along with a son, James Michael (Rachel) Buckley, Bloomington, IL; Bethany Carole Buckley, Indianapolis; two step-daughters, Dawn (Dusty) Sheets and Heidi Smart, both of West Lebanon; four grandchildren, Cameron Sheets, Tabitha Sheets, Chloe Sheets and Kaleb Wille. He was preceded in death by his parents.
Friends may call at the Maus Funeral Home, Attica, on Thursday, June 11th, from 5:00 - 8:00 p.m. with Masonic and Scottish Rite services being held at 7:45 p.m. Funeral services will be held at the funeral home on Friday, June 12th, at 2:00 p.m.
with Pastor Roger McDaniel officiating.
Burial will follow with military honors in the Riverside Cemetery, Attica.
Memorial contributions may be made to the Trinity Presbyterian Church or Paws 'n Claws Animal Shelter.
Executive Secretary's Corner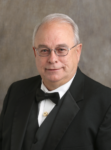 The contact form can be used to contact the Valley of Terre Haute. An Email is sent directly to the Executive office. If you know of any Lodge Degree work, Special events, fundraisers, stated meetings etc. please let us know so we can add them to the calendar above.
If you know of a brother or someone close to us who is sick, who is in need, or has passed please let us know.
If you have a new phone number, email, or regular address change let us know.
If you are a Master Mason in good standing, and wish to Join, or wish to have more information about the Scottish Rite please let us know.
Contact The Valley of Terre Haute AASR Office 
Our Vision:
"We will strive to be a fraternity that fulfills our Masonic obligation to care for our members."
Our Mission:
-Inspire our members by emphasizing our Core Values: Reverence for God, Devotion to Country, Integrity, Justice, Toleration and Service.
-Ensure that activities are convenient.
-Provide enjoyable programs and fraternal fellowship.
Our Core Values:
-Reverence for God
-Justice
-Toleration
-Devotion to country
-Service
-Integrity